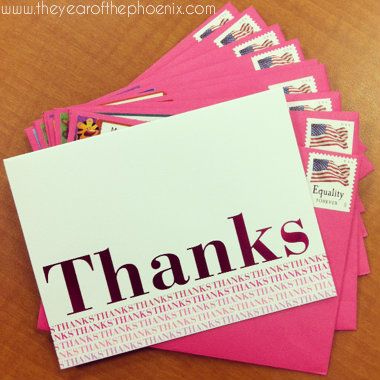 Thanks to the generosity of so many people, I was able to raise
over $1000
to benefit the
Lutheran Metropolitan Ministry Next Step Shelter
, which is a local organization that assists at risk youth in getting housing, social services, food, etc. LMM is also one of the sponsors for
tomorrow's 5K
and y'all have no idea
how much it means to me
to be able to present them with such a large contribution (and not just 'cause there's a prize for the top fundraiser, haha). So thank you so, so, so much to all that donated. As you can see, you'll be getting a good ol' fashioned handwritten thank you card soon. (And if you want your own handwritten thank you card, there's still time to
make a contribution
!)
Tomorrow is not only my fifth 5K, it will also most likely be my last race of the year. Truthfully, it's so bizarre to say that, because it suggests that 1) I ran more than just this one and 2) I'll be running next year, too. I mean, it was only back in February that I stepped on that treadmill for
the first time
.
Remember way back in June when I was totally
flipping out about my speed
a few days
before my first 5K
? And then I was so thrilled at even running that I
fully embraced last place
? That's the attitude I'm going in with tomorrow. To just relax and have fun. Don't get me wrong. I mean, it's not like I'm going to be lazy about my pace or anything. But I also know that just by running in my 5th 5K I've already managed to accomplish so much and I am so proud of where I am and how far I've come that I'm not necessarily looking to PR.
That being said, I am indeed already looking ahead to 2013. There is, of course, the
Cleveland Rock 'n Roll Half Marathon
, but that's not until October and I won't start training until mid-July. Luckily, Northeast Ohio is full of racing opportunities. There is the annual
St. Malachi 5 Mile Run
in March and I want to challenge myself more by stepping up from 5Ks to 10Ks. After all that I've managed to do this year, I'm looking forward to seeing what next year brings!
Love from the ashes,
Lady Lazarus